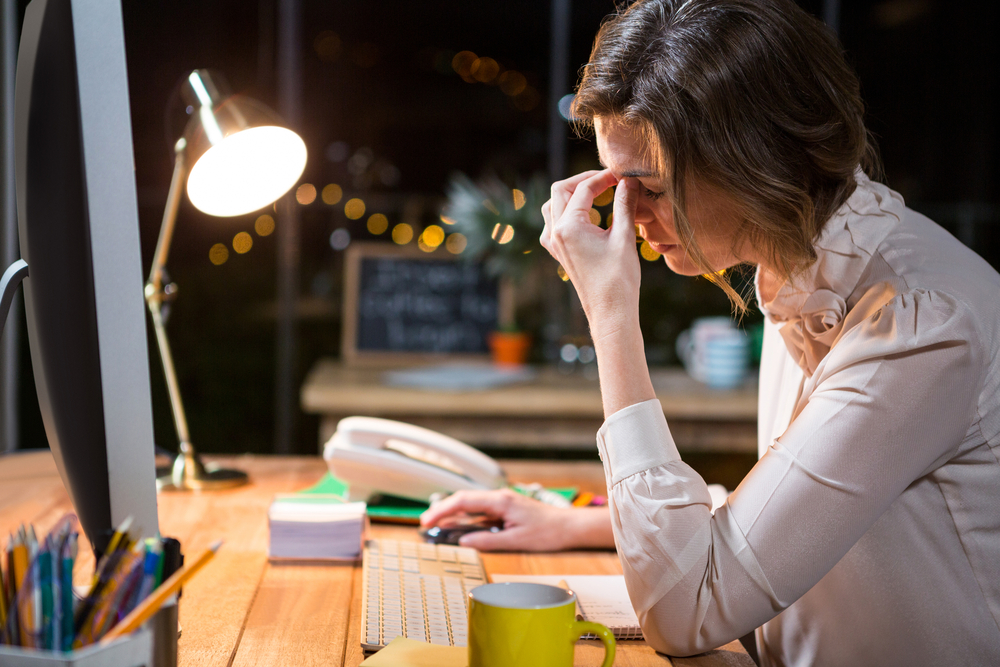 The impact that caregiving has on the workplace is huge - both in financial and emotional cost to employees and the companies they work for. According to a recent market research, a caregiving employee will average 5 days of missed work to provide care and incur $3,200 annually in additional costs due to poor health, loss of productivity and legal liabilities! And, with the cost to replace a valued employee about 150% of their annual salary, even a cold-hearted employer can't justify replacing the caregiving employee.(1)
Like mental illness and student loan issues, it's also an topic that carries stigma and is often hidden from employers. Employees are rightfully concerned that their caregiving duties will be seen by employers as at odds with the goals of the company. Caregivers often feel all alone - consider this recent feedback on caregiving in the workplace:(1).

However, the employer who makes an effort to provide help will be rewarded. 94% of caregivers would stay with an employer that provided relevant caregiving benefits/resources.(1) .
One answer for employees' problem is to modify and expand paid time off (PTO) policies to account for caregiving issues. Some employers are offering paid family leave for a short time to help with caregiving, which can be invaluable at time of crisis. This initial time off period, however, will only go so far since caregiving is a non-stop role. What benefits and resources are available for employees on an on-going basis? Here are three categories of benefits that can help:
Resource 1: Backup emergency caregiving services. For employees who have full time jobs and managing caregiving for someone, a last second cancellation from a caregiver can be frustrating and challenging. Employers can partner with organizations that can provide emergency care needs for people who need care, including seniors.
Once is example from www.brighthorizons.com , a company that offers all help with many caregiving services, from childcare to petcare to eldercare. Employers who offer the Bright Horizon program encourage employees to register in advance for backup caregiving service. Than, if a need arises, a Bright Horizon employee will handle finding emergency backup caregiving while the the employee pays the cost. This is a great resource that provides piece of mind.
Resource 2: Services that help employees manage ongoing care for aging parents. Obviously employees with full time jobs can't also be full time caregivers. Often they are thrust into the confusing and challenging role of coordinating care, often from long distances. Family members are often frustrated navigating resources while the care recipient feels threatened by being so dependent on a family member and dealing with a changed family dynamic.
Luckily, there are several innovative new companies that specialize in providing a care concierge for people who want to stay at home. These services are typically provided by licensed social workers with an expertise in geriatric care management. Here are three companies that are offering programs for employer groups:
Village Plan. Founded by an entrepreneur with experience in navigating the health care system, Village Plan works with employers to assist employees with the difficult task of coordinating and managing care. Village Plan charges an employer a small per employee charge for access to the caregiving services, such as care consultation and assessment and helping with implementation of a care plan. Village Plan is available to help 24/7 to employees. For an in depth interview with CEO Evan Falchuk, check out this podcast from the NFP Innovation Lab:
Wellthy:
Wellthy also is focused on helping working adults deal with caregiving issues. Wellthy works either as a PMPM (per member per month) program OR as a voluntary offering to employees at service rates less than they would get directly. According to the Wellthy website, employees pay a monthly fee, typically between $200 to $400 per month and are assigned a care coordinator who works with the person needing care, helping them coordinate a variety of tasks including legal, healthcare, social, and anything else that might be needed. All communication is coordinated through a web portal with the family.
HomeThrive. Founded by executives who are very familiar with the senior care marketplace, HomeThrive is another option that employers can offer employees. HomeThrive offers "Care Guides" who provide an in-home assessment followed by a plan of care focused on helping people age at home. Like Wellthy, HomeThrive is paid for by employees on a voluntary basis. HomeThrive has a national network of licensed geriatric care managers to assist families. HomeThrive also can help with the conversation a family member employee, often an adult daughter, can have with parents interested in this service.
Resource 3: LTC Insurance Offering
Finally, employers can offer LTC Insurance. Long-Term Care Insurance is a very popular employee benefit, especially for caregiving employees. In fact, 82% of caregiving employees are interested in long-term care insurance compared to 57% of the general population: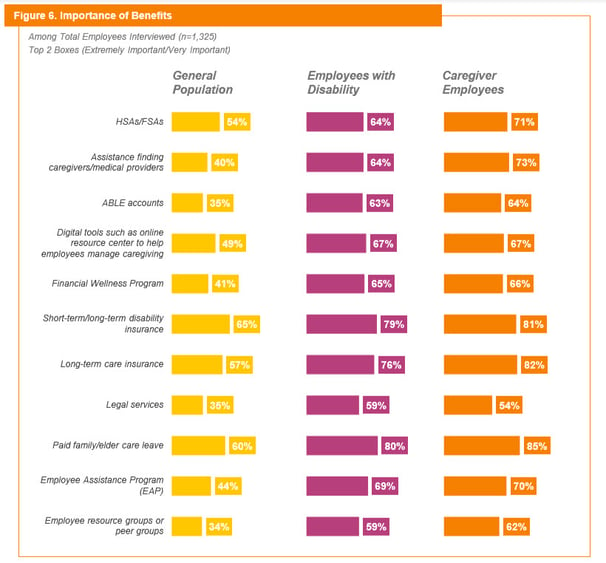 In addition to the demand for the product by caregivers, why would an employer want to offer LTC Insurance? Here are some benefits of making a plan offering:
Timely and valuable education on the need for LTC planning. Getting old and planning for care is hard! People have a hard time envisioning being dependent in the future. Education can have an impact - just has employer education has helped with retirement planning.
Addresses a significant "gap" in the employee's financial plan and helps protect their 401(k) . The biggest risk to a well thought out retirement plan is an unplanned health or long-term care need.
Simplified underwriting. Employees can often get easier underwriting than what they would be able to get on the individual marketplace. In some cases, plans may offer guaranteed issue coverage.
Unisex rates and group discounts. An employer based LTC plan provides gender neutral multi-life rates that are generally lower than comparable coverage in the individual market. The rates in the individual market will be based on age, marital status, and state of residence.
Ability to carve out select classes of employees. LTC Insurance can be offered in creative ways. For example, C-level executives could be offered a high benefit plan paid by the employer. Other executives and managers can buy meaningful standalone coverage, while younger employees can look at payroll deduct life insurance with LTC riders.
Benefits are generally received income tax-free.
Employees can pay for LTC Insurance through an HSA
To learn more about group LTC Insurance, check out The Essential Guide to Group Long-Term Care Insurance.
---
The impact of caregiving at the workplace will continue to grow with an aging population. Because of the impact, employers need to have a comprehensive strategy to address the impact on the employees both the problems they are having now and the future impact from the financial cost of care.
1) Source: For the Benefit of All How Organizations Win When They Recognize and Support Caregivers and Employees with Disabilities - Voya Cares, 5/2019. Click here to download a copy of the Voya Whitepaper on Caregiving