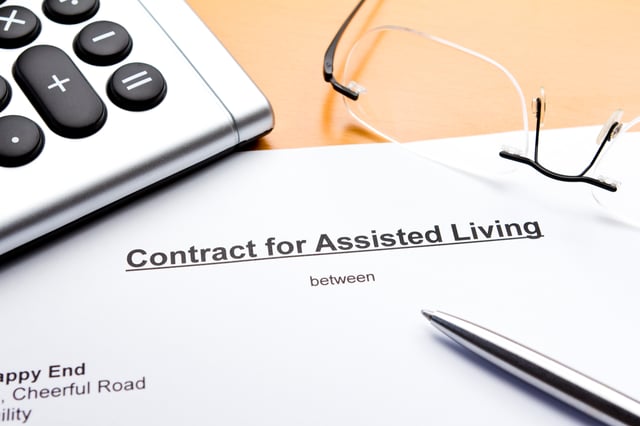 In a previous post, we discussed the challenges of picking the proper type of inflation coverage to handle possible future care cost increases.
However, insurance buyers still have to decide what type of initial coverage should be selected. By initial coverage, we're talking about the maximum daily or monthly benefit that will cover the cost of home, assisted living, or skilled nursing care for someone.
A good starting point for picking a coverage amount is to consult one of the long-term care cost surveys that are available from carriers. One of the more comprehensive surveys is provided by Genworth and is updated each year. The survey shows the cost of care for Home Health, Assisted Living and Nursing Home Care in different geographic
Let's say you consult the cost of care map for Los Angeles. You'd find the following costs:
Home Health Aide: $51,480 annually

Assisted Living Facility: $48,000 annually

Nursing Home Care: $108,040 for a Private Room
If you were going to translate those costs to a monthly benefit, which would you choose? Here are some options:
| | | |
| --- | --- | --- |
| Possible Approach | Advantages | Disadvantages |
| Insure the full amount with a comprehensive plan that will cover up to $300 per day in a Nursing Home or up to $9,000 per month in home or assisted living costs | Will cover all current costs of care | Will result in an extremely high premium, may leave a lot of unused benefit on the table |
| Select a carrier in which the Home Care and Assisted Living Benefit is 50% of the Nursing Home Benefit. In our example, the nursing home benefit would be $300 per day and home care benefit would be $4,500 per month. | Has tracked historical care costs well and will save premium compared to a 100% plan | This features isn't available from all carriers and may not save a significant amount of premium. In addition, the 100/50 ratio of nursing to home care costs may be different in the future. |
| Select a benefit based on the cost of home care, or $4,250 per month in our Los Angeles example | Much more affordable premium. Appeals to policyholders who focus on home care coverage. | Will need to cover the costs of the most expensive nursing home. Moving to a higher cost area of country may impact the choice |
| Pick a premium first, than back into a benefit amount. For example a $2,500 annual premium for a 55 year old would translate into a $4,900 monthly benefit and a $370K initial benefit pool. | Impossible to predict future care costs - better to pick a premium budget. | Need to conduct periodic policy reviews to insure that the plan is keeping up with care costs. |
As we've seen with LTC planning, often the hardest part is just getting started. People can easily drive themselves into paralysis by analysis - better to use an rule of thumb approach to get started. Which approach do you like?