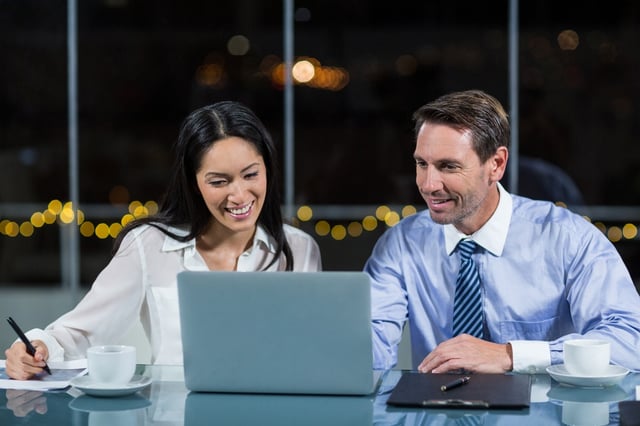 The promise of simple e-applications that an advisor can use to sign people up for LTC coverage has been something insurance carriers and distributors have been working on for many, many years. Now, there are encouraging signs that the latest round of products may finally get more producers to adopt them.
Although e-applications have been around for a long time, the issue has been getting "occasional" (i.e. non LTC specialists) producers to actually use the tools. Carriers would tout advantages to e-applications such as the fact that applications would be submitted in good order. However, since most occasional producers used brokerage general agencies to case manage business often it was easier and faster from the producers perspective to use a paper application and have the BGA chase the outstanding requirements - an important part of their services.
Despite the slow adoption of e-apps the reasons for using them continue to be compelling for carriers and distributors. Some of the issues with the first generations of e-apps are being solved. For example, here are some classic problems with producer use of e-apps, and how these issues are being addressed:
No one knows the location of the carrier website and advisor login information. This can be very frustrating, but now more people are used to using password managers such as www.lastpass.com that help advisors remember how to log into sites even if they are used infrequently.

Must be contracted in advance to use the e-application. Although this is the case for some carriers, others allow for proposals to be ran and applications to be started without contacting.

Systems very hard to use and requires training. Advisors are very busy - and can't be expected to sit through complicated videos, powerpoints or written guides to learn how to use a e-app that may only be used a few times per year. Web tools should be intuitive for the average computer user to be effective, and newer versions are intuitive.
Initally LTC insurance carriers tended to overcome some of these problems by using partial solutions, such as "e-ticket" solutions in which the "application" was really just a request for a 3rd party to complete the process through telephone interviews. The problem with this process, not surprisingly, was a high percentage of policies declined for health reasons and some not takens as well.
The bottom line is several LTC carriers offer e-applications that we can recommend. Many advisors are using screen sharing tools, such as join.me and gotomeeting to work with clients on applications if they are not face to face with them.
Here are four of the best e-apps currently available:
Mutual of Omaha: The new Mutual of Omaha e-app is well done, and allows for advisors to use a "sandbox" approach to test it out before trying on a real client. You will need to have a producer number with Mutual prior to using it. The actual e-application is pretty straightforward. One downside to the tool is you can't run illustrations within the tool - you'll have to run it using separate software and than attach the PDF of quote to the submitted e-app. To learn more about the Mutual of Omaha E-app look here:
Genworth: Genworth's new e-application is part of their "e-suite" of New Business Tools and is very well done. A nice feature is the ability to run illustrations directly in the e-application. It uses the very popular docu-sign for electronic signatures. In addition to the e-application, the site also allows for scheduling the clients underwriting phone interview on the spot. One small catch - the client will need their driver's license or state ID for e-signature ID verification. E-policy delivery is in the works. You can learn more about Genworth e-app here.
Transamerica: Transamerica was one of the first companies to create a comprehensive e-app. You have to go through an additional set up step to get access to the tool on producer access - it is not available by default. On the plus side, you can run quotes on the Transamerica LTC website. Visit the Transamerica LTC website for more information.
OneAmerica: Like Genworth, OneAmerica allows you to run illustrations and complete the eapplication all at once. A nice feature on the illustration is the ability to include a premium budget and have the software calculate the appropriate benefits. You can learn more here.
As you can see, LTC Insurance e-apps have come a long way since the last time we looked at this topic. For a saavy advisor it can be an effective way to write new business. Expect the process to continually improve.
---
Want to know the potential for future rate increases on today's LTC Insurance products? Click the button below for access to a special report on pricing of today's LTC plans: