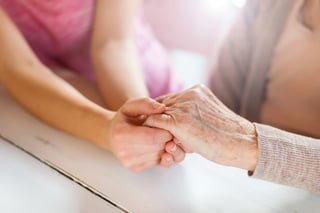 We hear this question quite a bit because many people immediately think of skilled nursing facilities when they think of long-term care. But that's not the only option.
It might surprise you, but most long-term care is provided in the home. In fact, about 80 percent of people over the age of 65 that receive long-term care live in a private home or residential community geared towards their needs. From private home care to skilled nursing facilities, there are many options in between where long-term care can be administered. Let's take a look:
Home care: With home care, the person remains at home to receive care from an informal caregiver such as a family member, or a formal caregiver. An in-home caregiver could be an aide, therapist or another individual who provides assistance with activities of daily living (ADLs), such as bathing, dressing and helping around the house.
Adult day care services: Participants in adult day care reside at home but go to another facility during the day that provides a variety of support services, including health and social services, within a supervised setting.
Assisted living: In this setting, individuals live in apartment-style units where personal care and other services are made available on an "as needed" basis.
Skilled nursing: A 24/7 care facility that offers a full range of care options including skilled care, personal care and rehabilitation, as well as daily activities.
For many of us, home is where we would ideally like to live for as long as possible, even when receiving some kind of care. That is why it is important to take time to think about your future lifestyle preferences from the full spectrum of options available as you plan for what the future might bring.
Related blog posts: