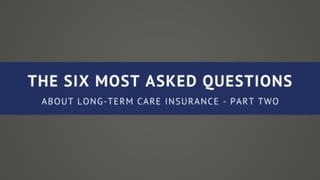 Questions 4-6
In our last blog post, we reviewed three of the six most asked questions about long-term care insurance. Today we will cover three additional questions you will want to ask as you and your family plan for the future.
How much coverage is right for me?
With long-term care insurance (LTCI), there is no "one size fits all" solution. Individuals have different preferences and budgets, and the cost varies based on several factors, including your age and health when you first apply. It's best to speak with a long-term care insurance specialist to help you with your plan. Here are a few items to take into consideration as you review your options:
Research the cost of care of where you live, or where you hope to retire.
Understand the type of settings and the cost of each where you would preferably receive care—such as an assisted living facility, your home or a skilled nursing facility.
Do you prefer a plan that covers the majority to entirety of the cost, or enough to cover a portion and self-insuring the extra expenses? The former will result in a higher premium.
What is inflation protection and do I need it?
If you purchase a LTCI policy in your 40's, 50's, or even 60's, chances are you won't claim your benefits for another 20 or 30 years down the road. During that time the cost of care should increase significantly, so a benefit that looks substantial today may cover far less of your expenses if you claim in say, your 80's. Adding an inflation protection rider to your LTCI policy will grow your benefits each year so you can keep up with those rising costs.
What are my next steps?
At LTCI Partners, we provide knowledgeable support through this process in helping you customize a policy tailored to your needs. If additional questions arise along the way, we are here to answer them for you.
November is LTC Awareness Month, making it the perfect time to have a conversation with your family members. Let's ensure your questions are answered so you can put a plan in place that protects your assets and provide peace of mind for you and your family.
(855) 204-1214 | MPG@LTCIPartners.com