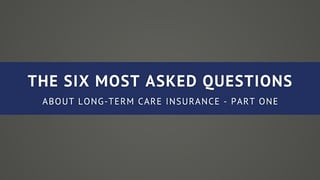 The first three
When it comes to planning for the future, especially long-term care insurance (LTCI), asking questions is an essential part of the process. The better informed you are about your LTCI options, the better decisions you can make for you and your loved ones.
Let's look at the first three of six commonly asked questions regarding long-term care insurance and the answers:
Why should I be thinking about long-term care if I don't know that I'll ever need it?
Today, Americans are celebrating more and more birthdays—reaching your 80th, 90th and even your 100th birthday is becoming increasingly likely. With life expectancy rising, the possibility that you will need long-term care also increases. However, many people don't like to think about how they may need assistance with basic activities of daily living down the road. In reality, the U.S. government reports that 70 percent of people that reach the age of 65 will likely require long-term care at some point in their lives, which makes planning ahead important. Incorporating LTCI into your portfolio can help you to better protect your assets and reduce the potential burden of care that would otherwise be shouldered by your family.
When is the right time to start planning?
It's never too early to begin planning because changes in your health can occur unexpectedly and at any age. Long-term care insurance plans are health underwritten, and insurance carriers are becoming increasingly strict on whom they accept. The sooner you begin planning, the more LTCI options will be available to you and the more likely you'll be accepted for coverage. Prices increase with each one of your birthday's, so obtaining a policy in your 40's or 50's helps you both get coverage at a lower price point and lock in your health.
Does Medicare cover long-term care?
Medicare limits coverage for long-term care services. Generally it will cover home care if it is part of recuperation – that is, you are expected to get better soon. If you receive care in a facility they may cover only the first 20 days. From day 21 to 100 you are responsible for a large daily copayment, currently a little over $150 a day. Medicare does not provide any benefits after 100 days.
While these are the initial questions you should ponder, stay tuned as there is more! In part two of this series we'll address three additional questions we are often asked about LTCI.