Long-term care is a topic no one likes to think about, but everyone should plan for. Of course, we can't predict what the future will hold, however we can look to statistics for insights. The U.S. Department of Health and Human Services estimates that 70 percent of people who reach the age of 65 will need some form of long-term care in their lives. Armed with this knowledge, and the fact that life expectancies continue to increase, being prepared for the possibility of requiring long-term care for yourself or a loved one at some point needs to be part of your retirement planning.
A good place to begin this planning is by calculating the cost of care in your area, or where you wish to retire. From there you can identify how much long-term care insurance you would potentially need. Here's a look at a recent survey from Genworth Financial: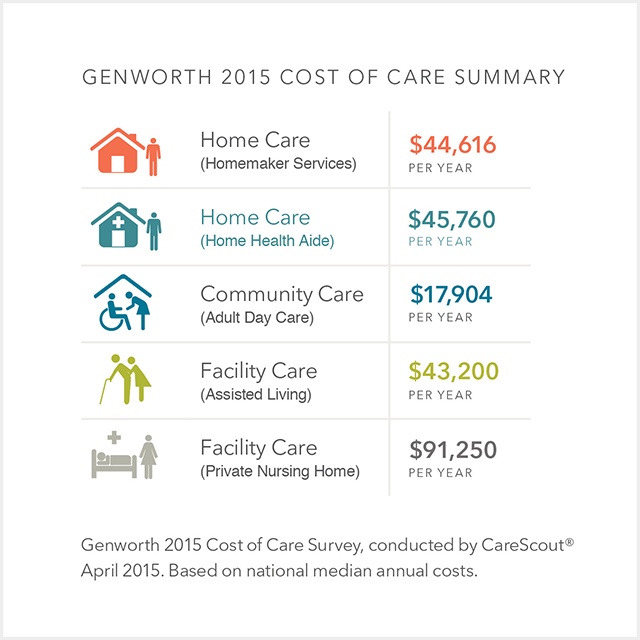 Understanding the cost of care down the road can be eye opening—and even a bit of a shock at first— but it's best to have the facts so you can be proactive with your planning. Calculate and compare the cost of care going forward using this Genworth cost of care map.
Now that you know the costs and risks associated with a long-term care event, let's take a look at who may be a good candidate for this insurance product.
Financially suitable - At least $50,000 in assets and about $40,000 or more in income. There are discounts available for couples.
In good health - Long-term care insurance is health underwritten, so not eveyone is accepted for coverage. There are discounts available for good health.
Age - A long-term care event can happen at any age. But the sweet spot to purchase coverage is between 40-65. The older you are, the higher premium costs will be and the less likely you'll be accepted for coverage (since our health generally declines as we age it gets harder to be accepted for coverage).
Long-term care insurance is not a one size fits all solution. It really depends on your unique financial picture and if you qualify with your health. The best way to find out is to speak wih a long-term care expert who can review this information with you and provide a recommendation that fits your budget and needs. If you meet the criteria, long-term care insurance may just be the solution you need to protect your retirement income and lifestyle.
Two minutes to understand the basics of long-term care insurance: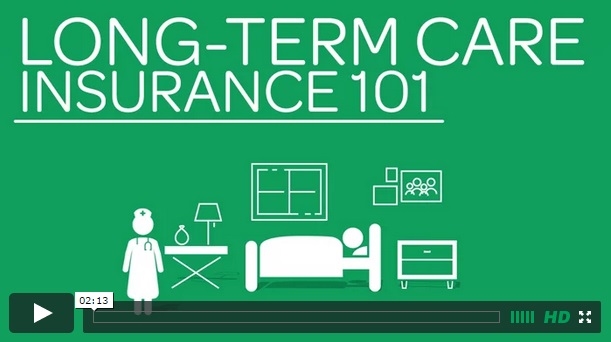 Related blog posts: