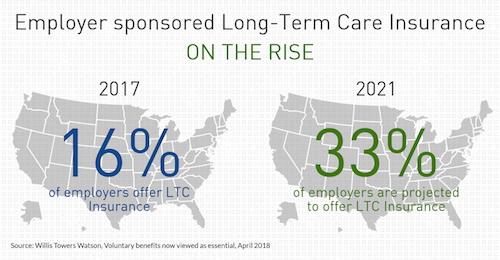 Offering long-term care insurance in the workplace provides numerous benefits to employees. Here are a few:
Timely and valuable education on the need for LTC planning. Getting old and planning for care is hard! People have a hard time envisioning being dependent in the future. Education can have an impact just as employer education has helped with retirement planning.

Addresses a significant "gap" in the employee's financial plan and helps protect their 401(k). The biggest risk to a well thought-out retirement plan is an unplanned health or long-term care need.

Simplified underwriting. Employees can often get easier underwriting than what they would be able to get on the individual marketplace. In some cases, plans may offer guaranteed issue coverage.

Unisex rates and group discounts. An employer-based LTC plan provides gender-neutral multi-life rates that are generally lower than comparable coverage in the individual market. The rates in the individual market will be based on age, marital status, and state of residence.

Ability to carve out select classes of employees. LTC insurance can be offered in creative ways. For example, C-level executives could be offered a high benefit plan paid by the employer. Other executives and managers can buy meaningful standalone coverage, while younger employees can look at payroll deduct life insurance with LTC riders.

Benefits are generally received income tax-free.
Most employees probably don't think about needing long-term care (LTC), especially if they feel young and healthy. But now's exactly the right time for you to help them plan for the future. Looking to fill the gap in your employee benefits portfolio with an LTC insurance program that fits your company? We have you and your employees covered
Like what you're reading? Download the Essential Guide to Group Long-Term Care Insurance.