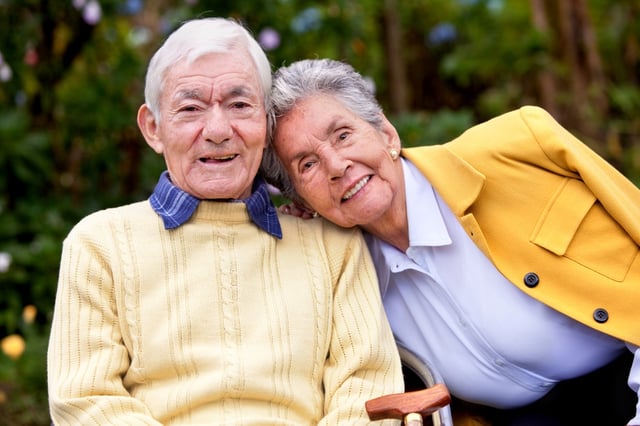 For a lot of people there is nothing more romantic than seeing an elderly couple celebrating a long-term anniversary or holding hands in a park on a beautiful day.
A majority of LTC Insurance is purchased by couples, and the average age of purchase is about 60 years old. These couples have typically been together for a long period of time and are planning on taking care of each other until death to them part.
Some of those couples decide that buying LTC Insurance, either of the standalone or linked variety, would be a wise decision and one that comes from a place of true caring. So when after applying one spouse is declined for coverage due to health condition it often creates an emotional reaction in the couple which can lead to irrational decisions.
In our experience, about 15% of applicants for LTC Insurance are declined due to health history - even after having completed a preliminary health screen such as this one.
Another 10% of applicants are offered a plan but don't take it - and most of these "not-takens" are because a spouse was declined. Typically this is is the wrong decision. The spouse who is insurable should keep the coverage they qualify for.
One way to get the spouse to keep that coverage is to have a plan and discussion about the uninsurable spouse. Here are three ideas that can help couples have that discussion:
1) A special rider for standalone coverage
The Mutual of Omaha Security Benefit is an optional rider that provides an additional benefit without a reduction in the policy limit when the insured is receiving benefits and his or her partner is alive. The additional funds may be used to help pay for care or living expenses for an uninsured partner. Here's how it works:
It pays the insured an additional 60% of the reimbursement benefit each month, excluding the cash benefit if any, for covered services received.
The Security Benefit will not reduce the policy limit
The Security Benefit is not offered for sub-standard health risks or for issue ages over the age of 69.
Here's an example of how the Security Benefit may work. Let's say a couple comprised of a 60 year old female and a 60 year old male apply for LTC coverage, and the 60 year old male is declined because of health conditions conditions.
If the 60 year old female decides to keep her coverage, her annual premium would be $3,750 for a plan that pays $4,500 per month, $300,000 benefit pool and a 3% compound inflation rider.
If the couple decides to add the Security benefit to her policy, the premium would increase to $6,000 annually. However, if she needed care and triggered her LTC policy she would get an additional cash benefit of 60% of the monthly benefit to use for whatever purpose, including help with care for the uninsured spouse.
This could help if the couple were to move into assisted living together - and give them a potential monthly benefit of $7,200 which increases each year.
2) A linked Life/LTC plans with cash benefits
Most LTC programs pay for reimbursing actual care costs - but a more flexible way to get LTC benefits is to be paid in cash regardless of the actual expenses.
An example of this is Nationwide Care Matters - a Linked Life/LTC plan in which includes this feature.
For example, a 60 year old could buy a Nationwide Linked Life/LTC Care Matters plan with a $5,000 per month benefit, $300,000 maximum LTC benefit, 3% simple inflation rider for 10 premium payments of $14,596. If a spouse was uninsurable, they could simply increase the benefit they purchased which could be used for any reason, including taking care of the uninsurable spouse, once the policy was triggered. For example, they could increase the monthly benefit for the insurable spouse from $5,000 per month to $10,000 per month at twice the premium.
Since this program is a Life/LTC plan, if benefits were't used they could either be surrender for a full premium return after 10 years or a death benefit would be available.
3) A "point-of-need" medically underwritten annuity
Another option for the unisured spouse is to - wait. By this we mean keep the LTC Insurance for the insurable spouse and set aside money to pay for care for the uninsurable spouse.
When care for that person is needed, an option can be a medically underwriting single premium immediate annuity such as the Genworth IncomeAssurance Immediate Need Annuity. This product will consider health history when determining the amount paid by the SPIA. Since unhealthy people needing care will not live as long as normal, the amount paid out will be higher.
As an example, using our couple above let's say it is 25 years later and the uninsurable spouse is 85 and needs care that will cost $6,000 per month. Using a traditional SPIA, it would take a lump sum deposit of about $450,000 to generate that $6,000 income for lifetime. However, a Genworth IncomeAssurance annuity would have premium of much less - about $350,000 initial premium. Annual savings of $14,000 per year for 25 would cover the cost of the lifetime annuity.
Being declined for LTC Coverage is no fun, and planning earlier when healthy gives more options. However, when one person out of a couple is declined it is nice to have options and prevent an emotional decision.