Last week we discussed why care management is not managed care. This week we will review caregiver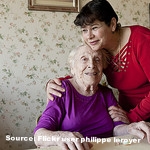 support services – which is helpful for the families of those who have insurance policies and are in need of care or are receiving care. If you remember, care management is a service provided to the insured at the time of claim and ongoing as their claim continues. Caregiver support is typically not provided by the insurance company, but by a third party who the insurance company has contracted with to provide additional support services to the insured and their family.

So look at this as additional help for you if you are the insured and need long-term care (LTC) assistance. In addition, caregiver support services can help if the insured has an immediate family member (i.e. your mom) that may be in need of long-term care services - even if she doesn't have a policy of her own. The insured may not be sure what type of care his or her loved one needs or what to look for to make those decisions.
What type of care is needed?
Where do you look for care providers?
How do you find the best care for the best price?
Caregiver support services, with most insurance companies, take services normally available only to policyholders and extends them to uncovered family members. They will have access to the same care planning, advice and helpful information, including:
A care advocate who works with the insured and their family throughout the caregiving process to identify providers and help you make informed care decisions.
Discounts at care providers nationwide and reports on nursing homes, assisted living, home health care providers and hospice facilities.
Caregiver support services works whether there is an immediate need, or even if you're just interested in developing a contingency plan in the event that a family member requires care. In many cases, as soon as your long-term care insurance (LTCI) policy is in-force, you can access the carriers caregiver support services website. There you can:
Complete a care evaluation to determine what type of care provider is right for your family member's situation.
Learn how to manage your loved one's care experience in a facility or with a home care agency, and how to help preserve their assets.
Understand common caregiving issues and how to confront them to help you better manage your time and stress level.
The decision to purchase long-term care insurance has always been a decision that impacts the family – but now it can help immediate family members who did not buy or could not qualify.