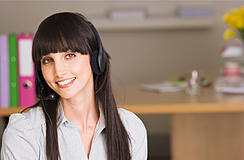 Many of you probably remember when HMOs and PPOs were created. We all thought the medical community and our insurance providers would tell us where, when and how we would get our medical care and how much they would be willing to pay for us to go where they wanted us to. That all became pretty mainstream 20 years ago and we found that for the most part, our health care experiences worked out just fine. Care management in the long-term care world was perceived the same way when it began, but now it is a mainstream benefit in most policies that are sold today.

We've all dealt with healthcare for years - if a child is sick on the weekend we go to urgent care and if we need a referral from our primary physician to a dermatologist we usually take their recommendation and go to whoever they recommend "in-network" and it all works out - it's how we get our health care. When someone has a long-term care event that triggers their long-term care insurance (LTCI) policy the call is usually; what do I do, where do I go (or where does my spouse or parent go) and what should I expect they'll do for me. The policy provides money for care, but how would you know that the care is being provided in the best place and in the best interest of you or your loved one?

When an insured is eligible to access their benefits from a LTCI policy the care management provided by the insurance company is a complimentary service that helps complete the claims paperwork and establish a plan of care (what needs to happen every day with the insured to make sure they are being taken care of). This direction is provided by a licensed health care practioner. So to summarize:
When the need for long-term care is identified and will be covered by insurance they work to help get the claim filed and explain how the policy works.
If care is to be provided at home they provide an in home assessment as to what type of care the insured will need to receive and how often.
They will provide recommendations of what type of care is available in the insureds area for home care and if necessary, can summarize what is available from local assisted living facilities and nursing home care if a higher level of service is needed.
Once care begins they will provide ongoing support and monitoring to make sure that the insureds needs are being meet and if it needs to be changed, they are changed to meet the needs – family input is often vital in this area.
Once again this service is of no cost to the insured or their family but can provide vital advice at the time of need, which often can be a hectic time and can help to make sure all the details are taken care of while the family spends time with the person who most needs attention.
So just like the advent of the HMO, embrace the assistance that is provided at the time that it is needed the most. It is no extra cost to you, and if you don't like the advice, you don't need to follow it as it is optional.