In our last blog post, we examined the cost of long-term care (LTC). We discussed how health insurance doesn't provide LTC coverage and that Medicare's benefits may not fully cover all long-term care related costs. This is where long-term care insurance becomes a valuable decision.
Now that you're familiar with the costs associated with receiving any type of care long term, you may be asking yourself, "OK. If I want to protect myself or my family, how much will long-term care insurance cost me?" The answer? "It depends." That is because the cost of a LTCI policy is dependent on a variety of factors, including but not limited to:
The type of policy you select
The amount of coverage you select
Your age
Your health
The state you live in
Additionally, many LTC insurance companies offer spousal and preferred health discounts that can be factored in. Here's a sample quote for a female and a male age 55: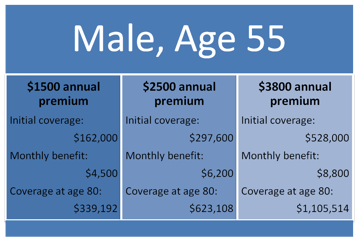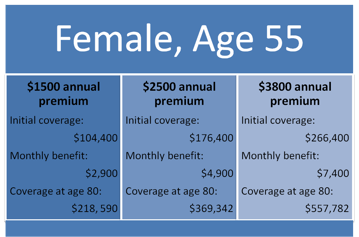 As you can see, there is no "one size fits all" policy or amount of coverage when it comes to purchasing long-term care insurance. The good news is there are a wide variety of coverage options available making it possible to choose the option that best fits your budget and situation.
The best way to determine the right fit for you is to speak with a long-term care planning expert who can guide you through eligibility criteria and coverage options to help you select the best policy that aligns with your desired future lifestyle.