It's possible that you or a loved one is going to need long-term care at a point in your life. You may recall from one of our previous blogs on LTC frequently asked questions that 70 percent of Americans age 65 and older will require some form of long-term care. But who pays for that care?
You might be surprised, but your regular health insurance doesn't provide coverage for long-term care. And Medicare may contribute toward long-term care expenses, however there are limitations to the amount of coverage provided and how long those benefits will last. Ultimately, if you don't have a long-term care insurance policy, the cost of care is left up to you or your family.
According to the Genworth's 2015 Cost of Care Survey, here's a snapshot of what one year of care cost: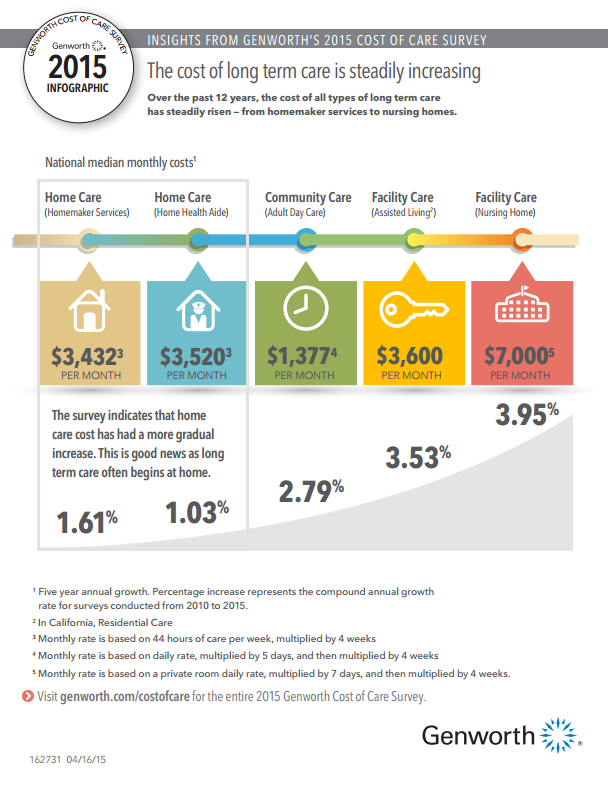 There are two main reasons why people purchase long-term care insurance. The first is to protect their savings because out-of-pocket costs can rapidly deplete the funds otherwise set aside for retirement. And second, to gain access to a wider variety of the type of care. If you rely solely on Medicare or Medicaid, your options may be limited to nursing homes that accept payments from these government programs.
Understanding the cost of care today (and what it could be thirty years from now) will help you determine what amount of long-term care insurance is the best fit for you and the lifestyle you wish to lead in the future.