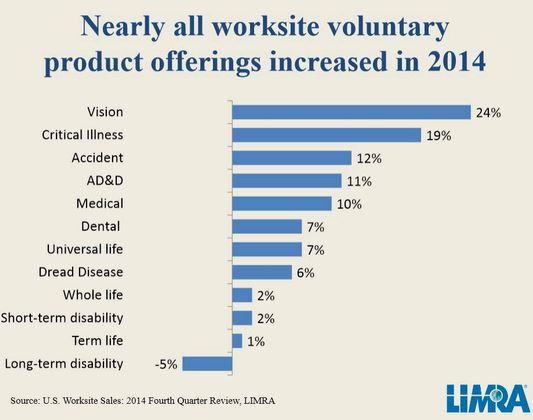 As you can see by this LIMRA chart above voluntary sales of insurance products have really increased in 2014, and one of the fastest growing types of coverage is critical illness. Employees like buying insurance coverage like CI through their employer for various reasons - including ease of enrollment, guaranteed issue underwriting and payroll deduction.
Critical Illness insurance has been popular around the world for many years and available in the U.S. for at least 30. Since then, the product has evolved and offers more choices than ever. The primary conditions covered by CI are heart attack, cancer and stroke, and policies pay a lump sum upon diagnosis.
At the worksite, policies typically offer less than $25,000 of coverage. Although that level of coverage will help pay deductibles, it usually isn't enough for all the unexpected costs that can occur during a health crisis. Those who want more coverage or are willing to do a little research will find great options in the individual market.
What does the individual market offer? It offers an often under appreciated benefit - medical underwriting. Medical underwriting allows carriers such as AIG and Assurity to offer benefits up to $500,000. Medical underwriting means that $101,000 of coverage is less expensive than $100,000. .
In the same way that people compliment group DI, life, 401(k) and LTC with individual products expect people to consider individual critical illness. The latest customized cancer treatments will be expensive and may not be covered by all health coverage.