Long-term care insurance benefits, whether standalone or hybrid life/LTC, are pretty similar today - policyholders who can't perform 2 of 6 activities of daily living or have cognitive impairment will get benefits that will pay for either care at home or in a care residence. Plans pay either a daily or monthly maximum up to a benefit limit that may or may not inflate over time, and some products offer lifetime benefits.
The big difference in how benefits are paid out has to do with whether the benefits are paid on a cash indemnity basis or a reimbursement basis. Before making a recommendation of a particular product, it is important that an advisor understand the difference so that they can compare products fairly.
Here's a description of how the benefit options differ: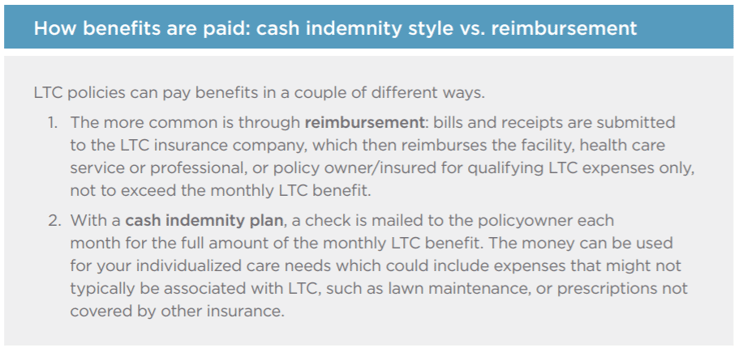 Reimbursement plan benefits will be received tax free under the tax rules. If someone is receiving indemnity cash plan benefits, any payments that cover actual costs are received tax free, while cash payments above $360 would be taxable. The IRS typically increases in non-taxable limit each year. (Here's more information on the tax benefits of LTC).
In order to receive cash indemnity benefits, policyholders who qualify just have to be receiving some type of informal care - but this could be provided by family members, such as a spouse or adult child. The fact that the insurance company will pay when only the family is doing the care giving is a very important and critical benefit, because often the spouse or adult child is going to be losing some income in providing the care. Most reimbursement plans will not allow the spouse or adult child to be paid for providing care.
Why are indemnity benefits for informal care so important? Well, according to a Nationwide white paper about Informal care benefit and home health care, 74% of people would prefer to receive care at home - and that's exactly where informal care takes place. The same study shows that only 9% of people at home receive all their care from only paid help.
The lesson - even if you have a LTC Insurance reimbursement policy you'll probably still be getting informal care from a loved one who may have to interrupt their life and career to help. It's estimated that the opportunity cost to informal caregiving in the U.S. is $522 billion!
Therefore, with the increased use of home health care owning a policy that pays cash for informal care can be a huge help. Many standalone and hybrid LTC plans offer cash indemnity benefit, while some offer a choice at claim time of cash as a percentage. Here is a chart of which carriers offer which benefits:
So, how much more do plans with cash benefits cost? The answer, of course, is it depends. A good rule of thumb is that cash indemnity product benefits will cost about 20% more than similar reimbursement plans.
Is that worth it? Assuming that at the time care occurs there will be costs associated with informal care, buyers need to decide if they want to pay now through higher premiums or deal with the consequences of informal care later. There are no wrong answers, but those who don't buy plans that include informal care benefits need to consider this issue.
For a real life example of how cash benefits can play a role at time of crisis, read this recent story from an advisor:
I want to share with all of you…I wrote an app yesterday on a man who had talked with me in May to get coverage for himself (he was postponed in May) since wife had a policy. When I called him this week he said she died in September from colon cancer. He thanked the carrier for the cash benefit for her because they paid about $4000 in two months while she was in hospice. They used that money to fly to across the country, with IVs on her and in her dying condition, to see their son's wedding in his garden from a bedroom window. Without the cash benefit, they probably wouldn't have made the quick trip to have her there. What a heartwarming story about how great the cash benefits are!
---
Want to learn more about the impact of Informal caregiving? Download a white paper from Nationwide here:
.