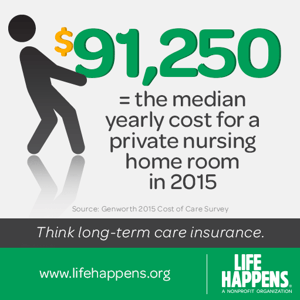 As you dive into the world of long-term care insurance and research the best available options for yourself or a loved one, don't be surprised if you find yourself becoming well versed in the activities of daily living (or "ADLs"), daily benefit amounts and maximum lifetime benefits, among others. It's important to do your homework – great job! In the midst of all of your research and LTC planning, one other term you will likely encounter is inflation protection. With everything else you are researching, don't let this one get lost in the shuffle. It may be one of the most important.
Whether you are looking into a long-term care insurance policy for yourself or someone else, it will probably be 10, 20 or even 30 years before you begin to collect the benefits. That means for those 10, 20, 30 years the cost of long-term care has been rising … year after year. Without taking inflation into account, does the original policy that you purchased still provide you with the ample coverage that you planned for?
Inflation poses a big—if not the biggest—single threat to the overall value of your long-term care insurance policy. How does inflation protection work? There are a wide variety of options available and can vary by carrier, but this feature on your LTC insurance policy increases the value of benefits over time in order to keep up with the rising cost of care.

Without inflation protection, the simple passing of time can eat away at the value of your policy and how much your coverage will truly cover later on.