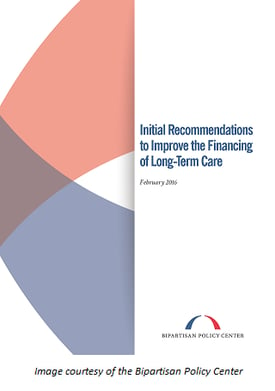 Four former top government officials (two Democrats and two Republicans) have proposed a new plan aimed at improving the nation's system for financing Long-Term Care (LTC). We believe these officials have taken a major step in raising the profile of the critical issue of Long-Term Care financing, which will impact the LTC group marketplace. The group recommends changes in two key areas:
Making private LTC Insurance more attractive to middle-income buyers
Improving Medicaid benefits for LTC services
The plan was developed by the Bipartisan Policy Center, a Washington-based think tank that tries to develop policy solutions that cross party lines. The LTC report was released by Democrats Tom Daschle, a former Senate Majority leader, and Alice Rivlin, former director of the Congressional Budget Office and the Office and Management and Budget; and Republicans Bill Frist, also a former Senate majority leader, and Tommy Thompson, a former Wisconsin Governor and U.S. Secretary of Health and Human Services.
BPC Private LTC Insurance Recommendations (with my comments in italics):
Create a new product called "Retirement LTC Insurance" that would offer a limited but more affordable benefit. Comment: Good idea, but nothing new - you can current design affordable plans using current carrier products.
Standardized policy benefits that would include a modest daily benefit, a total benefit pool of 2-3 years and a long deductible period or dollar amount, for example a $25,000 deductible. Comment: Standardization is a two edge sword - it allows easier shopping but can limit innovation in products.
Plans sold on exchanges. Comment: the public exchanges might not be the best fit for health-underwritten LTC Insurance - but private exchanges might be a fit.
Allowing carriers to regularly raise premiums, such as every three years vs. guaranteed renewable model currently offered. Comment: newer products are taking this strategy, such as the John Hancock Performance LTC product and products with step ratings.
Auto-enroll benefit for employees -- similar enrollment strategy seen in the 401(k) market. Comment: For certain employee populations this could make sense.
Penalty-free withdrawals from retirement accounts – for people over 45 years old. Comment: This small legislative change could have a dramatic impact on the voluntary group LTC business, as employees with large 401(k) balances can help product their savings from LTC costs.
So, will these recommendations ever move forward and lead to change in the marketplace? We'll see (it should take time like everything else in Washington D.C.), but the good news here is that issue of LTC financing is front and center. We'll keep you apprised of any developments with having to do with this report and the Bipartisan Policy Center.