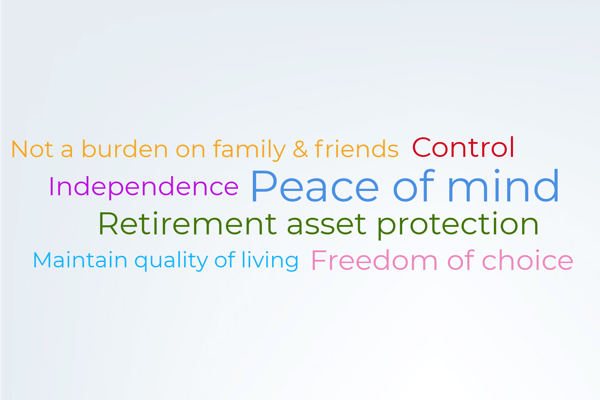 I get it. For most of us, insurance is something we don't like to buy. We pay our premium each month and hope NOT to use the policy benefits. However, all too often we "miss" the unadvertised advantages to insurance planning, especially when it comes to long-term care insurance planning.
Since one of the biggest risks to our retirement is a long-term care event, we shouldn't look at long-term care insurance the same way we look at other insurance products. If you are unfamiliar with long-term care insurance, please click here for a summary on LTC. Below are the very important unadvertised advantages to long-term care insurance planning.
Peace of Mind
Have you ever taken care of something and felt a million times better knowing a plan is in place? The decision to purchase long-term care insurance works the exact same way. Planning out how much money will we need during our retirement years can be a stressful exercise that will most likely leave us with one question, "will I have enough money?" Predicting unforeseen medical expenses during our retirement years is little like playing the lottery and if you're risk averse, it's your nightmare. The unfortunate reality is most of us know a family member or a friend who is currently dealing with a long-term care event. Long-term care services are expensive -- in 2017, the cost of care ranged between $47,934 - $97,455 annually (depending on the type of care you're receiving). To get an idea of the cost of care in your area, visit the Cost of Care map.
Unforeseen medical issues like a stroke, cancer, or dementia are all causes of all long--term care events. According to the US Department of Health and Human Services, around 70% of American's over 65 will need long-term care services at some point. With 7 in 10 of us needing long-term care services in our lifetime, it's more of a reality than an abstract concept. Having a long-term care insurance policy in place takes some of the guesswork out of planning for our retirement and will give you the peace of mind knowing a plan is in place.
Protect Retirement Assets & Maintain Lifestyle
Like most responsible planners, there's a good chance you've been religiously putting money away into your 401(k) or other retirement savings vehicle. By the time we retire, the hope is that we will have accumulated enough savings to comfortably maintain the lifestyle we've become accustomed to. Many of us, including myself, have big plans for our retirement savings that don't included paying for an unexpected healthcare event. One of the biggest threats to maintaining our retirement lifestyle is a long-term care event. The average long-term care claim is 2.5 years and based on the figures above, setting aside potentially ~$243,000 is not a realistic situation for most of us; which is why long-term care planning is so important. Long-term care insurance helps to protect your retirement assets in the event that you cannot safely care for yourself. Think of long-term care insurance as 401(k) insurance. A long-term care insurance policy will create a buffer between the likelihood of a long-term care event and your hard earned retirement dollars.
Freedom of Choice
Maintaining freedom of choice into our retirement years is important, especially when it comes to long-term care planning. Currently, there are only three ways to pay for a long-term care event – out of our savings, reimbursement through a long-term care insurance policy, or qualifying for Medicaid. If you need care, and you don't have adequate savings to pay out of pocket or a Long-term care insurance policy, you will need to exhaust your savings down to the federal poverty limit in order for the government to pay for your care. Unfortunately, those who qualify for Medicaid lose their freedom of choice when it comes to their care setting. Many individuals on Medicaid have to go to a facility that accepts Medicaid reimbursement. It's no surprise that most individuals who are receiving long-term care services prefer to stay within the comfort of their own home. Having a long-term care insurance policy allows you to maintain your freedom of choice and choose the setting or your care.