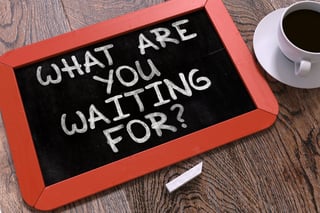 Remember the first few years after the financial crisis when car sales plummeted and General Motors had to be bailed out? At the time, even when gas prices were very low, people were cautious about making a big purchase. Due to unemployment and uncertainty, people delayed buying cars, the average age of cars got older, and repair shops reaped the benefits.
Now, of course, we have seen several recent great years for the auto business as pent up demand led to sales. In addition, during the lean years companies like GM learned how to build better products and be profitable on each sale instead of having finance driven sales. As this recent article notes, "Everything is sunshine and smiles over at General Motors"
Unfortunately, the LTC Insurance business is in a slump worse that the auto recession - new standalone LTC Insurance sales are down substantially in the last 10 years. Although there are increasing numbers of people buying Linked Life/LTC products or adding LTC riders to life policies, its not been near enough to make up the shortfall in LTC sales.
So what are these "non-buyers" of LTCI planning on doing? Luckily, we have some new research to help give us guidance. Here's survey data from an AHIP Long-term care survey that was shared with the NAIC at a recent meeting in San Diego.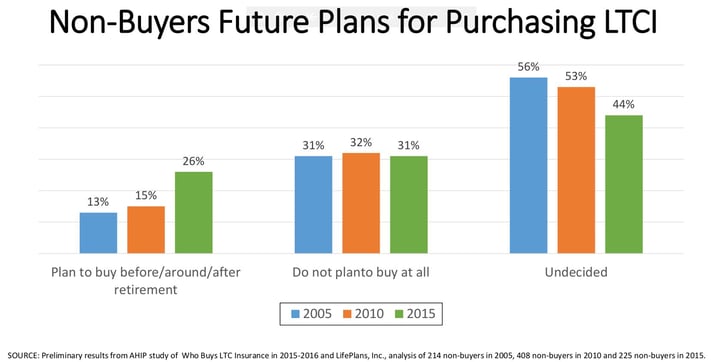 As you can see from the results, almost twice as many people in 2015 than 2005 plan on buying LTC "around or after retirement". That's great news for advisors who are helping people plan for care.
What are some of the possible reasons for the increase in the number of people who have not purchased yet are still planning to buy? Here are some possibilities:
Maybe some of today's news about LTC Insurance and in-force rate increases have given consumers pause - they want to see things "settle down" before they jump into buying products.
Perhaps the target buyers of LTC are living longer and healthier lives and aren't as concerned about needing care. As the average age at claim time increases, it follows that the average purchase age may increase as well.
Finally, the new products are more expensive than old products due to more conservative actuarial assumptions. It's logical that buyers are waiting for premiums to go down on new products or have not looked at more reasonable, affordable plan designs.
Although the market conditions are difficult, several LTC carriers have bucked some headwinds and are doing well. One example is LifeSecure, which is based in Michigan and owned and backed 100% by Blue Cross and Blue Shield of Michigan. They've focused on the employer marketplace and the popularity of voluntary benefits. As Michigan's economy has come back LifeSecure has thrived as well and just celebrated their 10th anniversary.
The LTC Insurance business needs help. According to the NAIC Long-term care subgroup conclusions, a recommended change is to "Examine the future of financing long term care given the significant impact of long term care costs on state budgets through state Medicaid programs, including an assessment of the role the private market should play."
Maybe a General Motors style bailout isn't necessary, but help from the federal and state governments is very important. A good first start would be allowing retirees to take penalty free withdrawls from qualified plans to pay premiums. As the survey shows, people want to buy coverage and need a nudge to do so. The time for waiting is over.
---
Check Out These