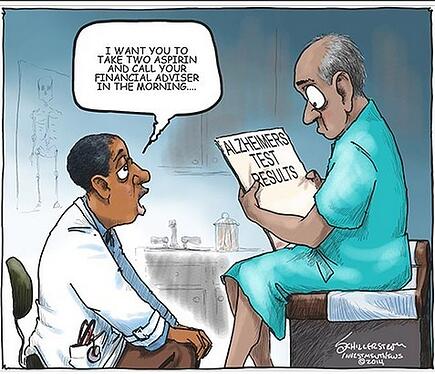 Genetic testing for Alzheimer's disease is a hot topic and no laughing matter, despite the cartoon above! Current tests can detect the genetic APOE4 gene which may indicate a risk for late onset Alzheimer's. A new test is now being developed that my detect disease up to 10 years before onset by looking at insulin resistance in the brain.

Investment News has a good article talking about the implications for financial advisors and their clients. If someone is aware they may develop Alzheimer's they should take action to plan ahead. However, the jury is still out on how many people would want to know if they were at risk since currenly their is no treatment for Alzheimers and prevention is limited to diet and excercise - things people know they should do anyways.
How will this affect LTC Insurers? On one hand, any research into Alzheimer's is great news as the advances in test may lead to an eventually treatment or cure - something that would dramatically help carrriers expected claims. On the other hand, there is a concern about adverse selection where those with knowledge of a chance of getting Alzheimer's would buy LTC Insurance. If evidence of that happened, insurers may be forced to also test and decline those with a genetic predispostion.
The best advice - plan for LTC now. One way to walk clients throughusing a "mind-map" of planning such as this one . Buying LTC Insurance now might be a great idea.
BTW, A new movie that's been well reviewed movie called "Still Alice" is focused on the lead character developing early onset Alzheimer's and includes a story line about family members and genetic testing. Take a look at the trailer (adult language alert)