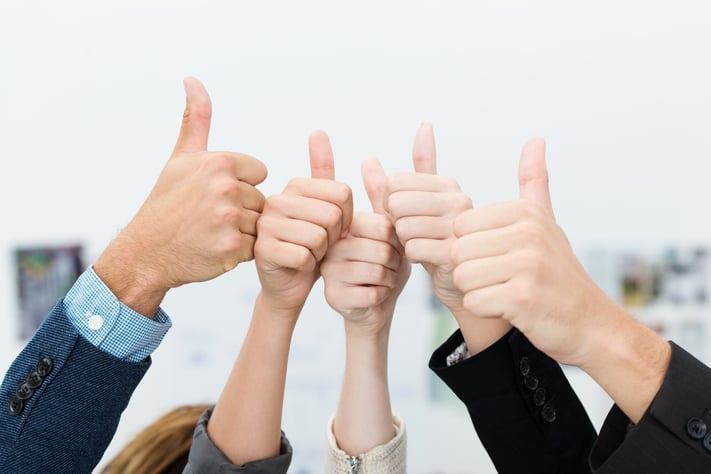 Recently I had the privilege of attending an annual meeting of a large financial services firm (independent broker-dealer) and speaking on an insurance panel. The panel included financial advisors sharing case studies and one of these was on LTC planning.
The product recommendation given for the case study was for a Linked-Benefits (Life/LTC) plan. One of the primary reasons the advisor gave this recommendation was that she would never consider Traditional LTC Insurance (LTCI) - due to rate increases on older blocks of business.
Although the linked Life/LTC plan may have been a excellent recommendation due to a life insurance need or the desire not to "use it or lose it", simply dismissing traditional LTCI because of past rate increases is a lazy analysis, similar to not recommending stocks because there was a stock market crash in 2008. It's a backward looking attitude based on an emotional versus rational approach to this planning.
The fact is traditional LTCI is here to stay...and not just in the United States. Sales of "standalone" LTC Insurance in advanced economies such as France, Germany, and Canada is strong and will continue to grow.
There are many well publicized reasons why premiums increased so much on "LTC Insurance 1.0" - but the fact is that most consumers have been able to adjust benefits for in-force plans and handle the increases. Most states passed LTCI rate stability legislation, and few plans written in the last 10 years or so have had dramatic increases. Bottom line - according to a Society of Actuary Study, plans sold today have a very low chance of rate increases.
Again, I'm a big proponent of linked-benefit LTCI plans - but there are also some cases in which Traditional (version 2.0) may be a great fit. Here are five of the reasons why:
1. Tax advantages
The tax advantages of LTC Insurance are many, and have been well documented. Each year, the IRS increases the available deduction, and as more people build health savings account balances they can pay their premiums from the HSA. For businesses, the ability to deduct LTCI premiums as a health insurance expense is also really nice. Many small business owners take advantage of this. Check out this interactive guide to the tax treatment of LTC in 2017,
2. Traditional LTC offers the most leverage (benefits) per premium dollar
It's true that both Linked-Benefits LTCI products and riders on Life products can provide significant LTC protection. However, if someone is looking for pure bang for the buck, Standalone LTC insurance is the way to go. Here's a recent example of how the different types of LTCI products sold in 2015 and what LTC benefits were available on those plans -- Standalone, Linked-Benefits, and CI/ABD riders on Life Insurance policies. (Source: Mark Glickman, Broker World)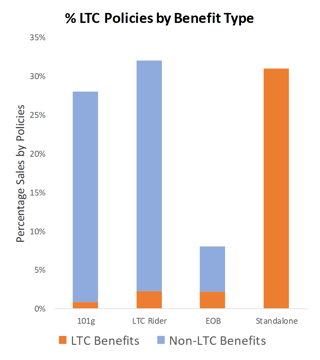 3. Traditional LTCI is budget friendly
Let's be real - LTC Insurance provides meaningful benefits and can't be called inexpensive. In addition, current LTC polices have higher initial premiums than older policies did.
However, this doesn't mean policies aren't available to a wider group of prospects than assumed. According to the comprehensive 2017 Milliman LTC Long Term Care Insurance Survey published by Broker World (link here), the average LTC premium in 2016 was $2,480, almost unchanged from previous years. For many mass affluent consumers who are buying policies in their late 50's, this is a manageable premium amount. Another way of looking at the average premium is it is about 2% of income of someone earning $120,000.
How much does that premium buy? According to the survey, it buys an average of $4,776 of monthly benefit for 4.07 years, or $233,259.84 of benefit. To keep it simple, understand that $2,500 buys $250,000 of coverage, or 100x premium. You can request a "sample" rate sheet for a range of LTCI budgets here.
4. LTC Insurance works - just ask the people who have benefited
For investors in LTC insurers, the last few years have been painful as claims incurred greatly exceeded actuaries projections. However the policyholder experience with LTC Insurance, with a few exceptions, has worked well. Current sellers of LTC Insurance paid billions in claims in 2016 and companies who no longer sell have paid billions more. The types of claims paid are well balanced, with roughly similar dollar amounts in 2016 paid for home health care, assisted living, and nursing home care. Another surprise that was not anticipated by insurers is the amount of assisted living claims paid by LTC coverage. The average claim amount for assisted living is higher than either home health care or nursing home care.
5. Flexibility of benefit options available
Although Linked-Benefits (Life/LTC) policies are offering more options, Traditional coverage still allows for the most customization of benefits. Here are some of the interesting and innovative options that are available through traditional LTC coverage:
Lifetime coverage
Multiple inflation options
Waiver of premiums upon claim
Shared care coverage
Although there are millions of ways to design a LTCI plan, be sure to not overwhelm clients with choices when recommending a solution.
With consciousness about this issue at an all-time high It's a great time to be involved in helping clients plan for LTC. More choice and insurance solutions are better for your clients, just don't forget to consider Standalone LTCI products!