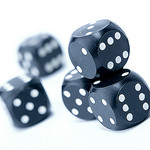 Source: Flickr user Dmitry Stankevich
I've been working in insurance for years and have heard a few clients say, "this is like gambling." In other words, they hesitate to insure against a risk they are not confident they will ever encounter. I explain that gambling is creating a risk that isn't necessary while insurance is protecting against an existing risk.
However, imagine if Vegas had a game where you had a 70% chance of winning $6,800.00 every month for 2 years. Who wouldn't love having a 70% chance of winning that kind of money? Now imagine if the odds of winning became greater with time. JACKPOT! The only catch is your chance of even being able to qualify to play the game decreases as you got older.
Unfortunately, that is the risk of not having long-term care insurance. That is the game we face losing. Once we reach the age of 65, seven out of ten people will need long-term care. The national average for a private room nursing home is $6,800.00 per month and that number is climbing steadily. As we get older, our chances of even qualifying for a plan decreases.
Not losing $160,000 isn't nearly as exciting as winning $160,000. But either way, $160,000 can go a long way. Losing it on a nursing home (or other types of long-term care services) would be painful. So while gambling is nothing like insurance, not having a long-term care plan isn't a risk I would want to take.
View last week's post, "Heed the Advice of a Caregiver."