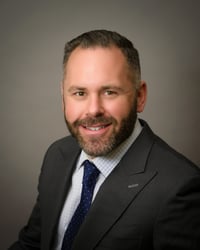 In an effort to help our clients get to know us better, we're sharing a brief Q&A series with members of our Group LTC business. This month, we've asked Adam Ruder (Regional Sales Leader) a few questions.
NAME: Adam Ruder
JOB TITLE: Regional Sales Leader
PREVIOUS POSITION: RVP - Genworth Financial Group LTC
CHALLENGES FACING THE INDUSTRY: I feel there's a couple factors. From the consumer and employee benefit broker/consultant perspective, there's a lot of misconception about long-term care insurance, which ultimately starts with a lack of education. By nature people are afraid or uncertain of what they don't understand. From the carrier perspective, it comes down to two items:
1) Economics: they've been burned badly by the underpricing and adverse selection, and interest rates remain at an all-time low (hopefully not much longer)
2) So many of their peers (i.e., other carriers) have exited the space. The thought is - what is it that we know or don't know?
INDUSTRY OUTLOOK: Very positive. The market has never been more stable in the last five years. There are new carriers entering the group benefits market, and those that have been on the sidelines are getting back in soon.
FIRST EXPERIENCE IN THE INDUSTRY JOB MARKET: I was hired out of college by MetLife as a Group Sales Rep, selling Group Life, STD/LTD, DI, and Dental.
ADVICE: I have two: (1) Get out of your comfort zone - be willing to do something that others are either unable or not willing to do. (2) Realize when you don't know something, and learn from people that are smarter than you.
OUTSIDE THE INDUSTRY, A DREAM JOB: Photographer for National Geographic
DREAM VACATION: South Africa and Tanzania - safari in the Serengeti and Mt Kilimanjaro
HIDDEN TALENT: My memory (my wife's opinion) - never forget a face or place or a moment and can recall with specific detail.
CAN'T MISS TV SHOW: Homeland or Game of Thrones
FAVORITE BOOK: Catcher in the Rye
HOBBIES: Golf, Spikeball & travel