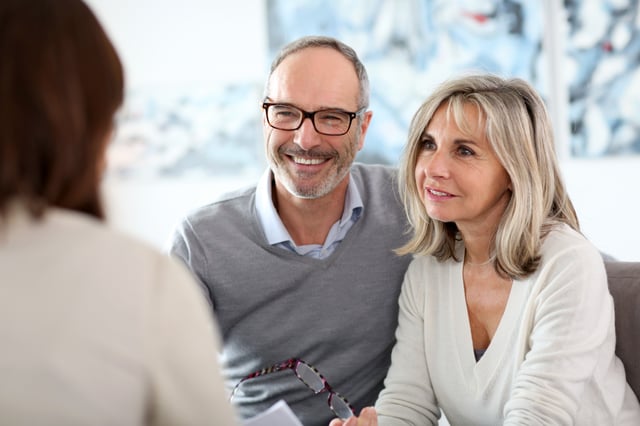 My wife and I have been Medicare eligible for a few years. During that time, we've had our Part B premium deducted from Social Security, paid premiums on a Medicare Supplement plan, bought a Part D drug plan, plus paid LTC Insurance premiums. Each year we look at our spending and ask ourselves if the coverages are worth it - and this year we've come to an interesting conclustion.
We've decided to drop our Medicare Supplement plan - but will be keeping our LTC Insurance plan. Since my wife has let me make the decision, here's my reasoning, and why I think many 65 year olds may want to consider spending their insurance premiums on LTC Insurance instead.
Medicare Decisions
First, like anyone Medicare eligible during open enrollment I have to decide if I want a Medicare Advantage plan. Of those eligible for Medicare, about 69% are part of traditional Medicare while 31% own Medicare Advantage plans. Personally, I'm not interested in Medicare Advantage plans, which feature managed care. Another potential issue with Medicare Advantage plans - people who pick Medicare Advantage plans at age 65 when first eligible for may be locked out of the Medicare Supplement market due to pre-existing health conditions if they decide to go back to traditional Medicare.
Before I was Medicare eligible, I would advise people against purchasing Medicare Supplement insurance because the risk seemed way too small to insure for affluent people. It is kind of like when the person at an electronic store asks you to buy insurance on a new TV—most people can afford buying a new one if the thing breaks and you should not insure those risks you can assume yourself. The idea of betting against an insurance company for small risks is usually pretty dumb. You should insure that loss which would be devastating to you financially, not necessary emotionally.
However, after I became Medicare eligible I ignored my own advice! I rationalized two reasons for the change of heart. First, the premium was deductible from the business and, second, writing checks for the small difference between what Medicare pays and the doctor charge for Part B expenses would drive me nuts. Now, however, I am dropping my Medicare Plan C Supplement because the carrier increased the premium to $3,000 per year for both me and my wife.
Think about it - we would need doctor expenses of about $30,000 at the 20% co-pay rate to equal the $6,000 in premium. That's an amount of exposure we can self-insure. The fact that Part B premiums are increasing makes it an easier choice as well.
BTW, we also own a Medicare Part D drug plan, which costs about $18 each per month for each of us. It is a good value for the benefit.
The downside to dropping Medicare Supplement coverage is that any furture purchase would be subject to health underwriting and be subject to higher premiums or unable to be insured. It is a risk I'm willing to take.
Long-Term Care Insurance Decisions
We are part of about 7.2 million americans that own long-term care insurance. We we were fortunate enough to buy in in the 1990's when we were still in our 50s and in excellent health.
Although the annual premium has increased from about $2,400 to about $4,100 for me (and a similar amount for my wife), the benefit is also about 50% more because of built in inflation compounding. We have access to a combined benefit amount of over $700,000 and if just one of us needs service the carrier willl send us about $80K per year. That is covering a real risk as opposed to a small annual risk for a Medicare Supplement.
How is it that many Advisors think Medicare Supplement Insurance which covers a very small risk is OK, but LTCI Insurance, which covers a major risk is a "Maybe"? Could it be that a lot of advisors simply do not understand the risk/reward of these coverages?
Advise for couples turning 65
What type of advice should an advisor give to couples turning 65? Of course, it depends. Someone with chronic medical conditions will probably benefit from a Medicare Supplement plan, not to mention the fact they will be uninsurable for LTC Insurance.
Check out this comparison for a 65 year old Illinois couple below who did not have the foresight to buy LTC Insurance at a younger age. Not surprisingly, the leverage for LTC Insurance is higher because there are fewer small claims. Circumstances may vary, but for an affluent couple who can afford some out of pocket costs it might be smarter to choose LTC Insurance.
What do you think? Did I make a smart decision to drop my Medicare Supplement coverage?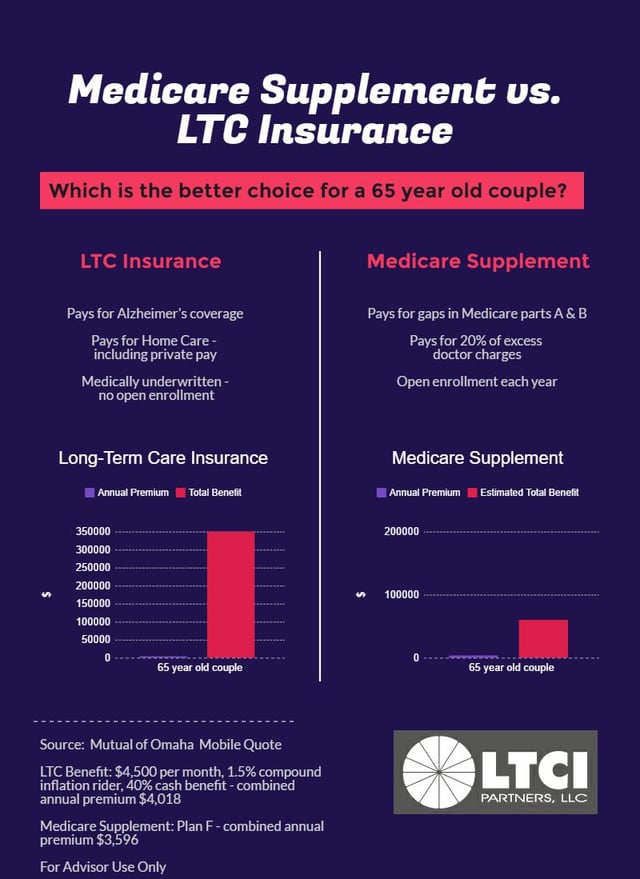 Interested in more infographics?